Green Energy Features: Slab Foundation

Waverly Homes are among the MOST energy efficient it Clark County!

How do we do it?  With a combination of intelligent building strategies, technology and a commitment to our environment.

Featured today, the benefits of Slab Foundation!
WHAT IS A SLAB FOUNDATION?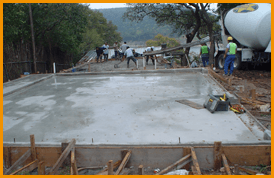 A slab foundation is a large, thick slab of concrete that is typically 4"-6" thick in the center and poured directly on the ground all at one time. The edges of the slab are thicker (as wide as 24") in order to allow for extra strength around the perimeter. Many foundations utilize post tension cables, while others are reinforced with steel rods (rebar). These materials are used in order to make the slab extremely sturdy and capable of bearing the load bearing weight of the house or other structure. The concrete slab is generally positioned on a layer of sand in order to improve drainage conditions and to act as a cushion.
A concrete slab does not have a crawlspace underneath it.
ADVANTAGES OF SLAB FOUNDATIONS:
Since there is no crawlspace (or airspace) under them, utility bills associated with air conditioning and heating are lowered.
Mold and mildew are not an issue, nor or rodents or insects. That's because there is no space under the slab for mold to form or rodents to nest.
They allow for a wider range of flooring options, including stained or scored concrete.
(References: HDFoundation)